Doctor

Appointment

Mobile

App

Development

Company
Streamline the process of booking doctor appointments with Rexzet Solutions' on-demand doctor appointment app development services
On Demand Doctor Appointment App Development
At Rexzet Solutions, we understand the importance of access to quality healthcare and the challenges that patients face when it comes to booking doctor appointments. That's why we offer on-demand doctor appointment app development services to help patients schedule appointments with ease.
Our custom-built apps streamline the process of booking doctor appointments, making it more convenient and efficient for patients. With our on-demand doctor appointment app, patients can easily search for and book appointments with doctors, view their upcoming appointments, and receive reminders and notifications. 
Our apps also provide patients with the ability to rate and review doctors, helping others make informed decisions about their healthcare. Whether you're a hospital, clinic or a medical practice, our on-demand doctor appointment app development services can help you to revolutionize the healthcare industry and improve patient satisfaction.
Find Technology That You Need
What Seeks You To Develop A Doctor Booking App ?
There are several reasons why we seek to develop a doctor booking app
Find Technology That You Need
Benefits of Using Our Ready to Use Doctor Appointment App
Working Process Of On-Demand Doctor Appointment App
On-demand doctor appointment mobile app development companies create apps that allow users to easily schedule and book appointments with doctors. The process typically works as follows:
Users download the app and create an account.

Users are presented with a list of available doctors in their area, and can filter the list by specialty, location, and availability.

Users can view the doctor's profile, which includes information such as qualifications, reviews, and ratings.

Users can select a doctor and choose a date and time for the appointment.

Users can confirm the appointment, and receive a notification when the appointment is scheduled.

Users can also cancel or reschedule the appointment if needed.

Users can also have virtual appointment with doctor through video conferencing feature.

The app also allows users to pay for the appointment through the app, making the process even more convenient.

Users can also chat with doctor before or after the appointment, if they want to.

App also have features like, tracking the appointment, providing health tips, etc.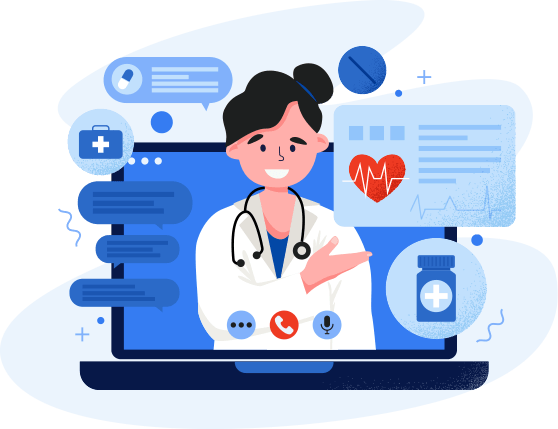 Why You Choose Us As A
Doctor Appointment

App Development Company
Our company is a leading provider of on-demand doctor appointment app development services. We have a team of highly skilled and experienced developers who have a deep understanding of the healthcare industry and the unique needs of patients and doctors.
We understand that each business has its own unique requirements and we offer custom development solutions to meet the specific needs of your business. Our apps are highly scalable, so they can accommodate the growth of your business.
Our top priority is data security, and we take all necessary measures to ensure that all patient information is kept confidential and secure. Our apps are user-friendly, easy to navigate, and designed to provide a seamless experience for users. They can also be easily integrated with existing systems such as electronic health record (EHR) and practice management systems.
We have a dedicated quality assurance team to ensure that the app is tested and free of bugs. We also provide post-launch technical support to ensure that your app runs smoothly and to address any issues that may arise.
We offer cost-effective development solutions without compromising on quality and we are committed to timely delivery of the project. With our expertise and commitment to quality, we are confident that we can help you create a world-class on-demand doctor appointment app that meets the needs of your business and your users.
Check

out

the

reviews

left

by

our

clients

for

Essentials
They render an excellent technical support, available 24/7, reliable, fast and secure. It is just amazing the way they work. I highly recommend them for your digital projects. We have found the help for issues in our online store.
Simply brilliant! Perfect! They deliver on time and on budget. Communication was also good and this is an important factor that many software companies doesn't consider! I will hire them again for sure
I like this man and his team a lot, Not only they resolved issues on my app, but suggest me to apply some changes on my product to increase sales, and i am really thankful to rexzet solutions as the strategies that they made, really worked enough to make sales. 5 stars

We had several developers try to fix a persistent problem with Woocommerce order confirmation emails that were not received. None was able to fix the problem. Rexzet was able to immediately identify the issue and fix it. Fantastic work!
Just great developer, I'm very happy and we will definitly work together in future. Never had such a great service from helping and explaining things, up to have the mind ready and thinks for the future of the project to. Thanks alot
You can find a doctor appointment app development company by researching online, asking for recommendations from friends or colleagues, or by looking at app development directories or listings.
The main features of a doctor appointment app typically include the ability to search for and book appointments with doctors, view a doctor's availability and schedule, receive appointment reminders, and view medical history or past appointments.
Yes, most app development companies will work with you to customize the app to fit the specific needs of your practice, such as integrating with your existing systems or adding unique features.
Patients can book appointments through the app by searching for a doctor, viewing their availability, and selecting a time slot that works for them. They can also view the doctor's profile, read reviews and ratings, and check the doctor's qualifications.
Yes, most app development companies will develop the app for both iOS and Android platforms, ensuring that the app is accessible to the largest possible audience.
Yes, app development companies will typically implement various security measures to ensure that the data on the app is secure and protected, such as encryption and secure servers.
This depends on the capabilities of your EMR system and the customization options offered by the app development company. Many companies can integrate the app with EMR systems to provide seamless functionality.
Yes, most doctor appointment apps offer appointment reminders and notifications to ensure that patients don't forget their appointments and to improve the patient experience.
The time it takes to develop a doctor appointment app can vary depending on the complexity of the app and the availability of the development team. Typically, it takes around 4-6 months to develop an app.