Messaging

App

Development
It's critical to keep up with technological advancements in chat messaging because there may be too much global competition. Everyone's apps have some sort of distinctive functionality, thus if you want to stay in the market, your chat app needs to have standout features. Hence, we are available to assist you in the same
"REXZET SOLUTIONS can build instant messaging apps similar to Whatsapp for Android, iPhone and Web with advanced functionalities exactly based on your requirements. At the crux, though, our messaging apps are mainly about connecting people and facilitating private conversations."Rexzet Solutions provide with the same to our clients and the people can trust us with relayed to their works.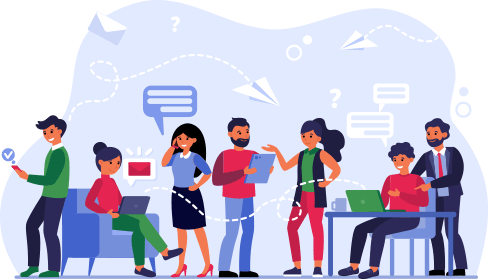 Rexzet Solutions in-house UI / UX designers who will make each pixel of the application unique. From the application work process to the visual allure of the interface, we will make a special craft for your application. It will stand apart from the horde of all other applications.Our application development has its benefits. We build a complete customization of highlights, start to finish uphold, and quicker deliveries to give some examples to our clients. Gain this and considerably more with our custom app advancement administrations.
Top-Notch Advantages

of Rexzet Solutions Team Message
You can get the best and most visionary Messaging app for Android and iOS, as we make sure to meet up all your expectations perfectly. Our developers will provide you with services for majorly all platforms.
Expand your business and experience the expertise of our skilled developers who come with the best outcome using the best messaging app development script.
Firstly, our team member and client discussed the whole requirement of the project.
After discussed, our team design or draw estimate project needs.
Discussion of the time duration and cost of the project.
After all discussion, our experienced and dedicated team starts working on the project and clients get their project process updated.
Assurance & predictability are the hallmarks of the services provided by the company. We fixed the timeline and fixed the cost of the project at the start. This is the best and simple method which clients feel comfortable dealing with as it gives them a budget and timeline which is fixed.
Working Process of white label
Messaging App
4. If you'd like to save it as a draft 
Check

out

the

reviews

left

by

our

clients

for

Essentials
They render an excellent technical support, available 24/7, reliable, fast and secure. It is just amazing the way they work. I highly recommend them for your digital projects. We have found the help for issues in our online store.
Simply brilliant! Perfect! They deliver on time and on budget. Communication was also good and this is an important factor that many software companies doesn't consider! I will hire them again for sure
I like this man and his team a lot, Not only they resolved issues on my app, but suggest me to apply some changes on my product to increase sales, and i am really thankful to rexzet solutions as the strategies that they made, really worked enough to make sales. 5 stars

We had several developers try to fix a persistent problem with Woocommerce order confirmation emails that were not received. None was able to fix the problem. Rexzet was able to immediately identify the issue and fix it. Fantastic work!
Just great developer, I'm very happy and we will definitly work together in future. Never had such a great service from helping and explaining things, up to have the mind ready and thinks for the future of the project to. Thanks alot
Rexzet Solutions App development
 The development time for a messaging app can vary depending on the complexity of the features and design. On average, it can take anywhere from 4 to 6 months to develop a basic messaging app.
 A messaging app allows users to send and receive instant messages, make voice and video calls, and share files with other users. Users can also create group chats and receive push notifications for new messages.
Yes, the design of a messaging app can be customized to match your brand and preferences.
 You can ensure the security of user's personal information by implementing features such as encryption, secure servers, and two-factor authentication.
Yes, your messaging app can be integrated with other platforms such as social media, email, and cloud storage.
 Yes, you can make money from your messaging app by displaying ads, offering in-app purchases, or charging for additional features such as storage or security.
 Yes, your messaging app can be launched in multiple countries, as long as you comply with the local regulations and laws in those areas.
 Yes, you can include the option for end-to-end encryption in the messaging app to ensure the privacy and security of users' conversations.
We develop secure business messengers, and messaging applications for the general public as part of our messaging chat app development services. We have expertise developing cross-platform apps for iOS, Android, and Xamarin.