Power

BI

Consulting

Solutions

&

Services
Get modern enterprise-level data analysis and Customize, or embed Power BI analytics in apps using fully documented SDK libraries and Apis.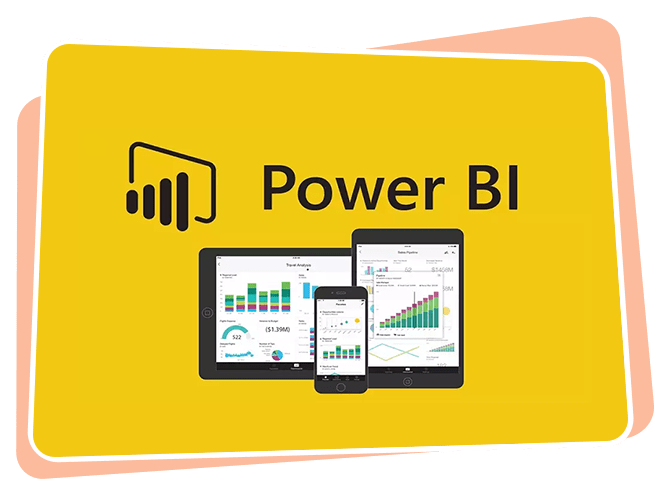 Apps,

websites,

and

portals

should

incorporate

Power

BI.
With beautiful interactive data visualisations across applications, websites, portals, SharePoint, and Microsoft Teams, present your company data in context. You can quickly integrate interactive reports and dashboards for consistent, high-fidelity experiences across devices using Power BI REST APIs and client APIs. Learn how to improve Power BI analytics for your company and customers by exploring interactive showcases and client APIs in the Power BI Embedded analytics playground.
SERVICES

WE

OFFER

FOR

POWER

BI
One of the Top Consulting Firms for Microsoft Power BI
Planning, developing a strategy, and producing a customised report. You are guided through every step of putting world-class business intelligence solutions with Power BI into place by our Microsoft Power BI experts
Implementation of Power BI
Our Power BI developers begin with data analysis and authentication in order to offer a comprehensive enterprise-class business intelligence solution. Based on the findings, we quickly setup and deploy the Power BI implementation.
QA and Maintenance Services
We streamline the generation of interactive reports and specialised designs for Power BI dashboards. It is a silo of data models used to monitor business operations and reach quick choices.
To assist you in obtaining a multifaceted picture of your company's data within the business ecosystem, we implement full-spectrum custom Power BI dashboards and reporting services. Additionally, we design unique aesthetics and components for various organisational roles and departments.
Get amazing graphics, dashboards, and reports across all of your current apps or websites with Power BI embedded services. Making quick and informed decisions is made easier for business people by simple data navigation.
Advanced Analytics for Power BI
Advanced analytics are integrated with machine learning technologies by Power BI professionals. You may view the output of a machine learning algorithm with the help of our data science specialists by simply dragging, dropping, and connecting data modules.
We're a BI solution vendor that specialises in turning unprocessed data into useful information. We assist the bespoke development of data visualisation platforms/solutions for your various business needs, regardless of the size of your enterprise. Our group promotes the development of self-service business intelligence to enable real-time analytics use by users at all levels.
Check

out

the

reviews

left

by

our

clients

for

Essentials
They render an excellent technical support, available 24/7, reliable, fast and secure. It is just amazing the way they work. I highly recommend them for your digital projects. We have found the help for issues in our online store.
Simply brilliant! Perfect! They deliver on time and on budget. Communication was also good and this is an important factor that many software companies doesn't consider! I will hire them again for sure
I like this man and his team a lot, Not only they resolved issues on my app, but suggest me to apply some changes on my product to increase sales, and i am really thankful to rexzet solutions as the strategies that they made, really worked enough to make sales. 5 stars

We had several developers try to fix a persistent problem with Woocommerce order confirmation emails that were not received. None was able to fix the problem. Rexzet was able to immediately identify the issue and fix it. Fantastic work!
Just great developer, I'm very happy and we will definitly work together in future. Never had such a great service from helping and explaining things, up to have the mind ready and thinks for the future of the project to. Thanks alot
Services

for

Power

BI

Development
We provide visualisation from various datasets thanks to the expertise of our team of Power BI developers. For a concise overview of all critical parameters, we provide bespoke design and interactive report production. You can obtain interactive reports and customise dashboards with the help of our developers. We use SQL Server Integration Services (SSIS) with cubes and dimension tables to extract, transform, and load data as part of the custom development process in order to track data load.
What

makes

our

Power

BI

development

services

appealing?
By creating solutions that are tailored to your needs, budget, and objectives, we assist you in utilising the full potential of Power BI capabilities. Our team helps you move, improve, and develop embedded analytics and self-service dashboards.
Your

go-to

Power

BI

consulting

firm

for

confident,

data-driven

choices
Our Power BI consulting services include BI strategy definition, infrastructure architecture, and implementation. We can assist you in finding insights and predicting business trends as a skilled Power BI implementation partner. You can access, model, and analyse your data anywhere — in the cloud, on-premises, via streaming data sources, Excel spreadsheets, and more — with the help of our Power BI development services. With the help of Power BI and SQL Server (SS) BI Tools, we contribute to expanding the functionality of Microsoft's comprehensive business intelligence suite. To present and update real-time data, our experts offer streaming in Power BI.
With

Power

BI,

see

your

data

come

to

life
For robust data discovery, dashboards, visualisation, business reporting, and self-service analytics, Pegasus One offers Power BI deployment services.
Through 
careful 
planning 
and 
analysis
of 
your 
data 
architecture, 
we 
will 
establish a roadmap. Our 

Microsoft 

Power 

BI consultants will assist you in creating dashboards that meet your business needs and enable you to accomplish your business objectives.
Our specialists will review the current dashboards and reports. Examine the demands made by the businessMake improvements and new developments to the current report and dashboard
Reading
the 
current 
reports 
and 
dashboards. Data modelling and data mapping are carried out. Transfer your reports and dashboards to Power BI from other systems.

Your 
data 
can 
be 
understood 
and 
used 
differently 
by 
our 
qualified 
developers.  We offer remote on-call troubleshooting and some of the greatest solution architects.
We 
are 
best 
known 
for 
producing 
individualised 
dashboards 
that 
are 
readily 
available. Each member of your organisation will benefit from these simple to use, highly engaging dashboards.
We 
deliver 
high-quality ticketed resolutions, incident support, and hybrid engagements. We offer answers to any of your problems.
You 
can 
access 
your 
reports 
and 
dashboards   
at 
any 
time, 
anywhere 
with 
Power 
BI 
cloud-based 
reports 
that 
are 
compatible 
with
tablets 
and 
mobile 
devices.
Our machine learning developers can integrate your application on services with Power BI utilising a common Rest API for quicker and more targeted core value outcomes.
Development of a Power BI dashboard
Through 
specialised 
design 
and 
interactive 
report 
creation, 
we 
maximise 
Power 
BI 
dashboard 
development. To monitor corporate operations and reach quick judgements, it is a silo of data models.
How

to

create

a

successful

Power

BI

app

using

tested

techniques

and

procedures

(.PBIX

File)
Custom design layouts
Meetings and brainstorming sessions are held to ensure that all parties are on the same page.
Testing
Agile technique includes manual and system testing, constant client feedback, and other elements. matching the values of calculated measurements (DAX) with those of their corresponding DB database
UI and UX
UX/UI Generation of required reports after we are done with all the required DAX calculations and Data Modelling
Deployment
Sharing the completed.pbix file with the client and their workspace in the Power BI service (online/cloud).
Development
Depending on the data sources from which we are obtaining the data, loading the necessary data into Power BI via Import, Direct Query, or Live Connection.
Power BI
For data processing, storage, and analysis, our in-house team of skilled Power BI professionals has offered business intelligence solutions. Since our inception, we have been transforming large company data sets into detailed dashboards and reports that give amazing business intelligence solutions to SMBs, large corporations, and start-up alike.